Etiquette Lessons Foundation
Click on the video above to learn more about Etiquette Lessons Foundation
Authentic Social Intelligence Soft Skills Taught in a Virtual Dining Room
Etiquette Lessons Foundation leads the etiquette industry in online etiquette instructor training. Our curriculum is a definitive collection of social skills organized into essential lessons. We have certified hundreds of etiquette entrepreneurs across America and abroad who in turn are using this system of etiquette training  with thousands of students every day.
Instructors can order Classroom Starter Kits, Student Workbooks, Music CDs, and Quiz books with final exams for grades and Student Achievement Award Certificates to help insure program effectiveness. The Etiquette Lessons Foundation curriculum is recommended for inclusion in Life-management, Social Studies, and Career Readiness courses.  Our lessons can be taught during school, after-school, in private, public or home schools, to  K-12 and college students by teachers, coaches, and parents alike.
"Girls & Boys at the Table" and "Teens at the Table"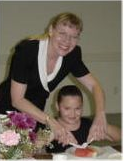 The Etiquette Lessons Foundation curriculum and product line are built upon these two, easy-to-use, instructional systems containing a series of 45-minute lessons in table manners, dining etiquette and protocol.  Lessons are designed for groups of children and young people ages five through twelve and thirteen through nineteen respectively. Each lesson includes a detailed lesson plan to help educators guide students through subjects such as place settings, how to use napkins and eating utensils, and how to dress for dinner. In addition to basic table manners, students learn tips on grooming, eating difficult foods, making introductions, writing social correspondence, the art of conversation and beginning dance floor etiquette.  Each lesson is presented with a suggested learning-snack and beverage.
Lessons contain an overview of North America's Cultural History. We discuss the introduction of various foods, fashions, music, art , literature, and ballroom dance styles.  Students learn how their own ethnic heritage is part of the dynamic and diverse American culture which accommodates change and continues to flourish within restraints of etiquette and good manners established hundreds of years ago and still practiced today.  While developing  a vision of their own role in a courteous and civil future, students achieve historical insight along with the social skills and good manners all parents want their children to know.
"Ours is the practical and natural approach to etiquette training. Young people study these lessons gaining confidence and skill together. They soon begin to conform to the roles of ladies and gentlemen at the table and learn to interact with constructive purpose. We strive to prepare our students to dine capably and independently. We review and reinforce good manners taught at home, adding nuances of fine dining etiquette. This system of dining and social behavior creates opportunities for each graduate's best traits to shine through."
Teresa Kathryn (TK) Reilly, Founder and Director
"Our experience with Mrs. Reilly's Etiquette Course was magnificent."
Ms. L., Mrs. N., Mrs. K., a Montessori School

"Wait until you see this program, this is brilliant!"
Mrs. S. D., Publisher